Nibley: Three Shrines 4
September 5, 2005

I want to today take a little break from comparing Nibley to Plato. I instead want to focus in Nibley's discussion of eschatology in this essay. Now eschatology, simply defined, means the study of the end times. Typically when discussed within Christianity it refers to the prophetic events of either the last days prior to Christ's return or to the final fulfillment of the earth's existence. Why does eschatology matter? Well if there is a plan, then the meaning of this moment can only be understood in terms of the whole. And the whole makes sense in terms of its purpose or end. To make a crude analogy, if I am walking to the store to get some milk, my journey only makes sense in terms of perhaps my sitting down and enjoying a glass of milk.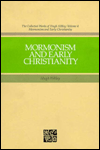 What I wish to do is to discuss Nibley's discussion of eschatology from a different essay in Mormonism and Early Christianity. Now that book has several very important papers published in non-Mormon journals. This one, however, was an ongoing series in The Improvement Era back in 1955. Allow me to quote from that essay some points that you should quickly see relate to the the philosophy of Mantic essay.
According to an equally recent and authoritative study, eschatology is. . ."a form of expectation. . .characterized by finality. The eschaton is the goal of a time-process, that after which nothing further can occur: it is the climax of teleological history. . . .It cannot even in thought be superseded by a subsequent event. . . .The eschaton is that beyond which the faithful never peers." (300)
Nibley brings up a few other points, such as the relationship of the eschaton with Apocalyptic literature, with the notion of a Messiah and the different combinations. However he quickly brings the discussion back to earth with a very important analogy I wish to quote in full.
Imagine, then, a successful businessman who, responding to some slight but persistent physical discomfort and the urging of an importunate wife, pays a visit to a friend of his-a doctor. Since the man has always considered himself a fairly healthy specimen, it is with an unquiet mind that he descends the steps of the clinic with the assurance, gained after long hours of searching examination, that he has about three weeks to live. In the days that follow, this man's thinking undergoes a change, not a slow subtle change — there is no time for that — but a quick and brutal reorientation. But the time he has reached home on that fateful afternoon, the first shock of the new has worn off, and he is already beginning to see things with strage eyes. As he locks the garage door, his long-held ambition to own a Cadillac suddenly seems unspeakably puerile to him, utterly unworthy of a rational, let alone an immortal being. This leads him to the shocking realization, in the hours that follow, that one can be rich and successful in this world with a perfectly barren mind. With shame and alarm he discovers that he has been making a religion of his career. In a flash of insight he recognizes that seeming and being are two wholly different things, and on his knees discovers that only his Heavenly Father knows him as he is. Abruptly he ceases to care particularly whether anybody thinks he is a good, able, smart likable fellow or not; after all, he is not trying to sell anyone anything any more.
Things that once filled him with awe seem strangely trivial, and things which a few days before did not even exist for him now fill his consciousness. For the first time he discovers the almost celestial beauty of nature, not viewed through the glass of cameras and car windows, but as the very element in which he lives; shapes and colors spring before his senses with a vividness and drama of which he never dreamed.
The perfection of children comes to him like a sudden revelation, and he is appalled by the monstrous perversion that would debauch their minds, over-stimulate their appetites, and destroy their sensibilities in unscrupulous plans of sales promotion. Everywhere he looks he gets the feeling that all is passing away — not just relatively because he is saying goodbye to a world he has never seen before, but really and truly: he see all life and stuff about him involved in a huge ceaseless combustion, a literal and apparent process of oxidation which is turning somethings slowly, some rapidly, but all things surely to ashes. He wishes he had studied more and pays a farewell visit to some friends at the university where he is quick to discover, with his new powers of discernment, that their professional posturing and intellectual busy-work is no road to discovery but only an alley of escape from responsibility and criticism.
As days pass, days during which that slight but ceaseless physical discomfort allows our moribund hero no momentary lapse into his old ways, he is visited ever more frequently by memories, memories of astonishing clarity and vividness — mostly from his childhood, and he finds himself at the same time slipping ever more easily into speculations, equally vivid, on the world to come and the future of this world. The limits of time begin to melt and fuse until everything seems present but the present. In a word, his thinking has become eschatological. (302-304)
Nibley continues, seeing in this eschatological state "destruction writ large on everything we behold" (quoting Joseph Smith). He then raises the question of whether this man has been jerked out of reality or into it. Has he become irresponsible or responsible? Later he continues.
To conclude our parable, what happens to our man of affairs? A second series of tests at the hospital shows that his case was not quite what they thought it was — he may live for many years. Yet he takes the news strangely, for instead of celebrating at a night club or a prize fight as any normal healthy person should, this creature will continue his difficult ways. "This," he says, "is no pardon. It is but a stay of execution. Soon enough it is going to happen. The situation is not really changed at all." So he becomes religious, a hopeless case, an eschatological zealot, a Puritan, a monk, a John Bunyan, a primitive Christian, an Essene, a Latterday Saint. In every age such people with their annoying eschatological beliefs has disturbed the placid ("perfectly-adjusted") waters of the slough of custom and paid dearly for their folly.
I quote all this because I think it gets at the basic phenomena that Nibley was getting at. It is a kind of expectation, but an expectation arising out of a basic view of death. It is important though that for Nibley this expectation allows one to rise out of the world and see reality. The key philosophical point I'd bring out is "the limits of time begin to melt and fuse until everything seems present but the present." What does that mean? It is the idea that this world is seen as a world of illusions. Transient, passing, and in a sense unreal. Earlier in a passage I didn't quote he said, "his values are those of eternity, looking to the "latter end" not only of his own existence but of everything and everybody around him." (305) That is, what their meaning is given through death. The present becomes unreal because it is death or end that provides meaning.
There is an other fact that I wish to return to. This way of thinking can't simply be conceived of through theory. It is essentially and explicitly tied to a certain experience. That recognition of death. Not just a recognition, but an expectation. "To anyone who does not experience it, the eschatological view of things is pure myth - an invention of an overwrought mind desperately determined to support its own premises." (306)
Now Nibley goes on in an extended critique of Bultmann and his de-mythologizing and (to Nibley) de-eschatologicalizing. It's quite interesting and informative. But what I wish to focus in on is that eschatology, by focusing in on death or the expectation (one might say dread) of death one is able to experience a phenomena otherwise lost. This phenomena is not necessarily knowledge of the end. Rather one sees the world around one in terms of ones death. By recognizing death, the world's appearance is opened up. While I don't think one could argue it solely from this passage, I'd argue that the "eternity" Nibley points to is the importance of the future and the ends of this life. We see things as being more than the present. Further, from Nibley's discussion, it becomes clear that what is seen in eternity isn't an other world as such. Rather it is this world.
One more analogy that might explain things better. Consider a song. How we listen to a song will be radically different if we recognize there is more to come. That there is a pattern in the song, a purpose, even if we don't know that purpose or know it only in part. Yet the notes we hear right now have meaning only in terms of the whole composition. In a sense the presence is lost precisely because the whole comes into view. That is, we don't hear the present notes solely as present notes. Rather we hear them with an expectation that places them in the whole.
The escape from death is important as well. It implies that this death can be deferred and yet still function for Nibley. Indeed he later asks about whether this thinking of death brings about thoughts of immortality and life after death. Why is this? Because if one opens oneself in expectation. Can the expectation of death really be seen as a total end? That is, once one experiences the dread of the total end, even the end of ones own life can not be assumed to be total. That would be to experience death as a kind of presence. Something that is denied by eschatology proper.
Also note, most importantly, how this transforms the Platonism somewhat. It's still there. But the Eternity of Plato as a fixed presence is lost. Rather the eternity is that eternal round or whole.
Note that this is part of a larger reading club. All the posts in this reading club can be found here.
Comments